Bobby Sanabria Multiverse Big Band

Vox Humana


Jazzheads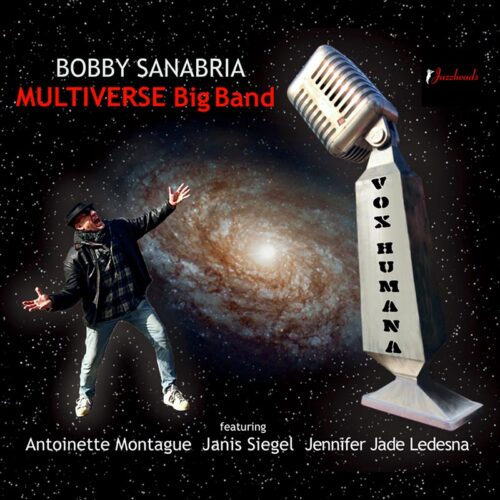 In the pantheon of Afro-Cuban music, when you want to summon the deities – the spirits of past, present and future – you engage in an incantation. Chanting, of a sort.
On Vox Humana, Bobby Sanabria's explosive, musically expansive new album, it's the very first and last thing thing you hear. Sanabria himself, from behind his drum set, cuts loose with an invocation that to the untrained ear might sound like someone speaking in tongues. It is, in fact, a summoning of Elegua, the Afro-Cuban orisha (Holy Spirit, Super Being), guardian of the crossroads and avatar of achê – the cosmic positive energy force of the Multiverse. There is no written translation for what is being communicated. It is the rhythmic quality of this incantation that matters most.
On Vox Humana, it is as if Bobby is announcing, "Elegua is here; you have been warned. Now let's go for a ride deep into the Multiverse."
'Multiverse' is a term Sanabria seized upon a few albums back. By definition, it is the opposite of a universe, which is a cosmos with a single guiding principle. The Multiverse is comprised of a matrix of rhythms, which includes, in Bobby's case, musical sounds from Mother Africa, Cuba and Puerto Rico; rhythm-and-blues from urban America; gospel from the African American church; and, of course, all genres and variations of jazz, from swing to bebop, and styles from Latin America.
Vox Humana has it all. "This is the most autobiographical album I've done so far," says Sanabria. "It touches upon all the musical influences of my life in a way that I've never attempted before."
Born in 1957, in the Melrose section of the South Bronx of Puerto Rican parentage, Sanabria came of age at a time when the borough was a musical microcosm of America. Within jazz, the Mambo era of Machito, Tito Puente and Tito Rodiguez, and the big band era of Count Basie, Lionel Hampton and others, had given way to small group configurations led by living legends such as Coltrane, Miles, Dizzy, Eddie Palmieri, and many others. Sanabria would formally study at the esteemed conservatory, the Berklee College of Music where he graduated with honors in 1979. But out on the street, or in the park and at church, there were other musical tributaries that he followed in his youth. Soul, boogaloo, R & B, Latin rock, and even the earliest strains of hip hop were all part of the Bronx stew of the 1960s, 70s and 80s.
Says Sanabria, "In my neighborhood, which was mostly African American, but also racially diverse, the neutral ground was the candy store, the pizza shop, or the church-sponsored dance that featured music and dancing. At a dance, you would see an Italian or Irish guy looking at the Puerto Rican and Black girls. Sure, there would be the occasional slur – 'look at those greasy spics' – or whatever, but there was always one or two guys who would say, 'You know what? She's fine. I'm gonna ask her to dance.' The music was what brought people together."
To the young boy who would go on to become one of the most acclaimed big band drummer-percussionists, arrangers and conductors of his generation, it all started in the hood. "The Melrose Housing Projects, where I grew up, was, and still is, a predominantly African American housing project. There was a gospel church down the block. I would walk by there and hear them getting down; it was a marvelous thing… And then, when I was twelve years old, I saw Tito Puente performing on the corner in front of the projects I grew up in. I saw and heard the Machito Orchestra. Also, Ricardo Ray and Bobby Cruz, the duo that formed in 1963 with their powerhouse band. Those three bands performed in front of my building on the corner of E. 153rd street and Courtlandt Avenue. That was the turning point in my life. I was twelve years old, and I said, I want to do this for the rest of my life."
The shows were free as part of the New York City Parks Department, which received funding from private foundations. Countless lives were redirected and possibly saved through the power of music. Says Bobby, "I saw funk and soul bands. I vividly remember a band called the Soul Intentions. They played Motown and soul in the style of Tower of Power. And then I'd see various salsa bands. It was amazing. To me, I wanted to do all that kind of music. People would tell me, 'You gotta pick one.' I'd say, 'What do you mean I gotta pick one?' 'You gotta' either be a salsa musician, or a jazz musician, or funk musician…' I said, 'Well. Why can't I do it all?'"
Although he became versed in Afro-Cuban percussion from the rumba park jams of his neighborhood, Sanabria would chose the drums as his principal instrument. "The drum set. Yeah. That is the one instrument that can fit into any musical context."
There was the music, and then there was the spiritual core at the heart of the music. For Sanabria, this also had a biographical precedent. "When I was young, I caught pneumonia. I missed the first month of first grade. The doctor came to our house to examine me. I was incapacitated in bed. Afterwards, my parents didn't realize that the bedroom door was ajar. I heard the doctor say to my father, 'Frankly, Mister Sanabria, I think you should prepare yourself for the worst. Your son might not make it. He's in bad shape.' My father said, 'What do you mean he's in bad shape?' 'Well,' said the doctor, 'it's not just a head cold. He has pneumonia. He could die.' Hearing this, I was devastated. My mother heard me crying. She came into the room and said to me in Spanish, 'Don't listen to him. There is a higher power than the doctor, and that is the Holy Spirit.' She showed me how to pray, using the rosary. 'God will help you. Jesus will help you.' She introduced me to the power of spirituality, a power that comes not from something you can see or touch, but from a higher power."
The spiritual essence of Sanabria's upbringing may have been rooted in his parents adherence to Catholicism, but as soon as Bobby got into music, he knew there was a broader context. The rhythms that came from Africa had derived further shadings from Cuba, Puerto Rico, Brazil, and other points of origin. In the United States, they became the Multiverse. Though some might think of this concept as a disconnected source of inspiration, for Sanabria, it has always represented a community not unlike his South Bronx neighborhood. "I joke sometimes that it comes from Star Trek, the TV show. Like the Enterprise, we're on a mission to seek out new civilizations, to go where no human has gone before. That's what we do in the Multiverse Big Band and all the other groups that I lead. The whole thing is to create a sense of community. My thing is, Look, if you have trepidation or fear, there's nothing to be scared of because we have more things in common than differences. Man, look at it this way: There's a bridge. I'm at the gateway to the bridge welcoming you. And the gateway is always open. It's never closed. Come over to where we are and visit. Don't worry. You can always go back where you came from if you choose. The other metaphor is that there is this big house called jazz. And it's got all these different rooms. One of the rooms is rumba, and another is mambo. In another room is James Brown, funk, soul. Another is Tower of Power, they're in that room. Another one is Coltrane, another is Mingus. Room after room. And then there's the biggest room in the house. That's the Multiverse, right? That's the room where everybody congregates."
None of this would be possible were it not for the band itself. The Multiverse Big Band is unique in its constitution and ability to swing hard and take no prisoners. Sanabria is known for conducting a large orchestra as if it were a small combo. Despite its size and multiplicity of instrumentation, the band can turn on a dime from a concert jazz orchestra to a swinging dance band that can roar and whisper. "We have some of the most powerful heavy hitters on the scene," says Bobby.  "I call it the Multiverse because the members come from different racial and ethnic backgrounds and are multi-generational as well. They all have experience in every style of music imaginable. Most important is that they have experience with Afro-Cuban and Brazilian music, and other forms of Latin American music. Because the rhythmic vocabulary we use is very complex. If you're not accustomed to that, as a jazz player, then forget it. The phrasing is going to be off, and that leads to a whole set of other problems as well."
Perhaps the most distinctive feature of Vox Humana is its ambitious use of three vocalists. Sanabria has always liked to use singers with his big band, a tradition that goes back to the Swing Era when bandleaders like Tommy Dorsey, Benny Goodman and Duke Ellington all featured a female and, or male vocalist. Here, the Multiverse Big Band raises the ante by using three separate vocalists, all with their own unique interpretive style.
Perhaps the best known is Janis Siegel, because of her long, Grammy Award-winning career as lead singer for the Manhattan Transfer. Brooklyn born and bred, Siegel brings her inventive jazz phrasing to every style from doo-wop to torch songs, swing to bebop, and beyond. Jennifer Jade Ledesna is originally from the Bronx and is of Dominican, Puerto Rican descent. She can sing in various languages and has an affinity for Brazilian music with scatting capabilities that are nonpareil. Antoinette Montague hails from the great city of Newark, New Jersey. She possesses an acclaimed powerful vocal instrument that's rooted in the soulfulness of the blues, gospel and classic R&B.
The Multiverse is a philosophical imperative. Vox Humana is the fruit of this musical foray into a cosmos that embraces the talents of a remarkable collection of musicians, as well as the accumulated biographical knowledge of a true American original. Bobby Sanabria may have been born and raised in the South Bronx, but he's found his calling in the multiverse, and jazz lovers around the world are all better off for it.
— T.J. English, NY Times best-selling author and jazz aficionado
Tracklist
1. CARAVAN – composed by Juan Tizól – 7:08 (Irving Mills Publishing, ASCAP)
arranged by Jeremy Fletcher, background chants arranged by Bobby Sanabria
Solos: Bobby Sanabria – vocal exclamations, Janis Siegel – coqui whistle, Matthew Gonzalez – barril de bomba, requinto pandereta, David Dejesus – soprano sax, Max Darché – trumpet finale
2. CAPULLITO DE ALELI – composed by Rafael Hernández – 7:17 (Peer International Corp. Gema BMI)
arranged by Danny Rivera, background vocals arranged by Bobby Sanabria
Solos: Jennifer Jade Ledesna – vocals, Matthew Gonzalez – bongó, Darwin Noguera – piano, Andrew Gould – alto sax
3. PUERTO RICO – composed by Eddie Palmieri – 8:25 (Palma Floribe, Inc., BMI)
arranged by Takao Heisho, background vocals arranged by Bobby Sanabria
Solos: The orchestra: coqui whistles, Oreste Abrantes – melody and soneo (improv) vocals, Jennifer Jade Ledesna –  melody vocals, Ben Sutin – violin intro, Darwin Noguera – piano, Chris Washburne, Armando Vergara, Noah Bless, Dave Miller – trombones, Matt Hilgenberg – trumpet, Percussion Finale: Matthew Gonzalez – bongó, Oreste Abrantes – congas, Bobby Sanabria – drums
4. PARTIDO ALTO – composed by José Roberto Bertrami, Alex Malheiros – 7:23 (Far Out Music Publishing UK, BMI)
arranged by Takao Heisho
Solos: Jennifer Jade Ledesna – vocals, Jeff Lederer – tenor sax, Takao Heisho – cuica
5. LET THE GOOD TIMES ROLL – composed by Sam Theard, Louis Jordan, Fleecie Moore – 3:45 (Universal Music Publishing Group, BMI)
arranged by Jeremy Fletcher
Solos: Antoinette Montague – vocals, Armando Vergara – trombone with plunger
6. WHO TAUGHT YOU THAT – composed by Randy Klein, new lyrics by Antoinette Montague – 5:55 (Randy Klein Music, BMI)
arranged by Jeremy Fletcher
Solos: Antoinette Montague – vocals, Danny Rivera – bari sax, Andrew Neesley – trumpet w/ harmon mute w/ stem in and with plunger, Peter Brainin – tenor sax
7. I LOVE YOU PORGY – composed by George and Ira Gershwin – 5:25 (Gershwin Publishing Corp., ASCAP)
arranged by Jeremy Fletcher, based on a small group interpretation by Antoinette Montague
Solos: Antoinette Montague – vocals, Dave Miller – trombone
8. GENIE IN A BOTTLE – composed by Pam Sheyne, Steve Kipner, David Frank – 4:41 (Mothership Music Publishing, BMI)
arranged by Andrew Neu
Solos: Janis Siegel – vocals, Jonathan Challoner – trumpet, sax soli – David Dejesus – alto, Andrew Gould – alto, Peter Brainin – tenor, Jeff Lederer – tenor, Danny Rivera – bari
9. AMAZONAS – composed by Lysias Enio, João Donato – 5:43 (Monsapec Music Inc., BMI)
arranged by Jeremy Fletcher, background vocals arranged by Janis Siegel
Solos: Janis Siegel – vocals, Takao Heisho – cuica, Gabrielle Garo – flute, Ben Sutin – violin, David Dejesus – alto sax
10. SPOOKY –  Mike Sharpe (Shapiro), Harry Middlebrooks Jr., J.R. Cobb, Buddy Buie – 5:38 (Concord Music Publishing, ASCAP)
arranged by Jeremy Fletcher, background vocals arranged by Janis Siegel and Bobby Sanabria, based on a small group arrangement originally done by Christian McBride
Solos: Janis Siegel – vocals, Gabrielle Garo – flute intro and outro, Peter Brainin – tenor sax
11. TO BE WITH YOU – composed by William Manuel "Willie" Torres, Nick Jimenez – 4:21 (Aurea Music, BMI)
arranged by Jeremy Fletcher, background vocals arranged by Janis Siegel
Solos: Janis Siegel – vocals, Darwin Noguera – piano
12. DO IT AGAIN – composed by Walter Becker, Donald Fagen – 5:44 (Giant Music Inc., ASCAP)
arranged by Jeremy Fletcher, background vocals arranged by Janis Siegel and Bobby Sanabria
Solos: Janis Siegel, Jennifer Jade Ledesna, Antoinette Montague – vocals, Noah Bless – trombone, Gabrielle Garo – flute
13. MI CONGO – composed by Eddie Palmieri, arranged by Takao Heisho, background vocals arranged by Bobby Sanabria – 12:15 (Palmas Floribe, Inc., BMI)
Solos: Oreste Abrantes, Jennifer Jade Ledesna – melody vocals, Oreste Abrantes – soneo (vocal improv), Ben Sutin – violin, Danny Rivera – bari sax, David Dejesus – soprano, Peter Brainin – tenor sax, Andrew Gould – alto sax, Jeff Lederer – tenor sax, Max Darché – trumpet, Bobby Sanabria – drums, vocal exclamations
TOTAL TIME: 1 hour 24 minutes 19 seconds
Personnel
RHYTHM
Bobby Sanabria – musical director, drums, mounted bells, wind chimes, background vocals, vocal exclamations
Oreste Abrantes – congas, lead and background vocals
Matthew Gonzalez – bongó/cencerro (hand bongó bell), barril de bomba, requinto pandereta, ganza, Puerto Rican guicharo, agogo, background vocals
Takao Heisho – Cuban guiro, agogo bells, claves, cuica, pandeiro, maracas, shekere, tambourine, background vocals
Darwin Noguera – piano
Leo Traversa – electric bass
SAXOPHONES
David Dejesus – lead alto, soprano
Andrew Gould – alto
Peter Brainin – tenor, also maracas on "Spooky" and "Do It Again"
Jeff Lederer – tenor
Danny Rivera – bari
TRUMPETS
Max Darché – lead
Matt Hilgenberg
Jonathan Challoner
Andrew Neesley 
TROMBONES
Dave Miller – lead
Noah Bless
Armando Vergara
Chris Washburne – bass trombone
ELECTRIC VIOLIN
Ben Sutin
FLUTE
Gabrielle Garo
LEAD and BACKGROUND VOCALS
Janis Siegel, Antoinette Montague, Jennifer Jade Ledesna
Additional Credits
Recorded Live at Dizzy's Club Coca Cola, NYC – June 18, 19, 2022
Executive Producers: Randy Klein for Jazzheads, Bobby Sanabria
Producer: Bobby Sanabria
Recording Engineer: Jamie Macomber
Assistant Engineer: Chris Gold
Mixing: Jim Gately, Valhalla Sound
Mastering: Gene Paul, G & J Audio
Announcer: Desmond Prass
Front cover concept: Bobby Sanabria
Front cover photo of Bobby with Nashville Giant Microphone by: Elena Martinez
Graphic Design: Chris Van Vooren – C.V. Design
Bobby Sanabria endorses TAMA drums (Starclassic Maple Drums used on this recording), Sabian cymbals, Latin Percussion Inc., Remo drumheads, Vic Firth sticks and mallets
Oreste Abrantes endorses Latin Percussion Inc.
Matthew Gonzalez endorses TOCA percussion
Takao Heisho endorses Latin Percussion Inc.
Liner Notes
CARAVAN – One of the most enduring compositions in jazz history, "Caravan" was written by Puerto Rican valve trombonist JUAN TIZOL (22 January 22, 1900 – 23 April 23, 1984) in 1936 while he was a member of the Duke Ellington Orchestra. By the following year it was being performed by virtually every jazz musician in the world. Besides Dizzy Gillespie's, "A Night In Tunisia," it is the most oft requested tune at any jam session for its flexibility of interpretation in any number of rhythmic styles. The importance of Tizol's tenure in the Ellington organization cannot be understated. When he came into the orchestra he began to codify many of the improvised "head" arrangements the players had come up with by using his skills as a copyist and arranger. Besides "Caravan" he would contribute other pieces that became well known such as "Perdido, "Lady of Puerto Rico," "Conga Brava," "Pyramid" to name just a few thus introducing quasi Latin flavored elements into the orchestra. I say quasi because the players in the orchestra, most notably the rhythm section including Duke himself, had no idea of how to play any forms of Latin rhythms in an authentic manner. Thus although Tizol composed pieces that were inspired by his own cultural heritage, they band lacked the proper interpretive skills to perform the music in the authentic terms of a true Latin jazz oriented concept. That would come later with the Machito Afro-Cubans in NYC.
Juan hailed from the city of Vega Baja, but it was in San Juan, the cities capital, where his musicianship would attain renown as a member of the Banda Municipal (Municipal Band) and Symphony under the musical direction of his uncle, MANUEL TIZOL. Free lancing with dance and theater orchestras also honed his skills in sight reading and his adaptability to a variety of playing styles. In 1920 he traveled to Washington DC with a dance band that became employed at the famed Howard Theater which was the vortex for African American culture in the city. It was here he came to the attention of Duke Ellington and joined the orchestra in 1929. As verified by Ellington drummer, Sonny Greer, practically everyone in the orchestra at that time was from Puerto Rico. Yet another un-acknowledged fact in the history of Latino musicians presence and contribution to jazz history.
The tune in and of itself is indeed important in my life and my development as a musician. In 1967 I was 10 years old and the Beatles SGT. PEPPERS LONELY HEART CLUBS BAND record had come out. My parents, Josê and Juanita, took me to see a clarinetist named Artie Miller doing a tribute concert for Benny Goodman at Carnegie Hall and Mr. Miller's wife had before the concert given me as a present the recording of Sgt. Peppers as a birthday present. The recording's unique cover and the music itself introduced me to the avant garde. Although I had seen and heard jazz on TV in a variety of formats and had already fallen in love with it, I had never witnessed it being performed live in person. The concert closed with CARAVANI at a fast tempo with an exciting climactic drum solo that received a standing ovation. While the applause was going on my Father proudly told me that a Puerto Rican had composed the piece. Two years later years I witnessed Maestro Tito Puente's orchestra along with that of Machito's in a live setting performing in an outdoor concert in front of the building I grew up in the South Bronx's Melrose Housing Projects. It was these two events that made me say to myself, "This is what I want to do with the rest of my life."
Our interpretation of the song evokes what possibly could have happened if the Ellington Orchestra would have had a working knowledge of authentic Latin rhythms. In keeping with Maestro Tizol's and my cultural heritage, Afro-Puerto Rican rhythms are used in Jeremy Fletcher's fabulous arrangement. As the opening piece of the album, and the fact that the avatar/gatekeeper of the positive energy force of the MULTIVERSE and the Yoruba pantheon is, ELEGUA, he must be praised first and last in any ceremony. His number is three. Thus three rhythms are featured.
The first is PLENA. Born in the city's of Guayama and Ponce in the late 19th century, it is traditionally played on three jingleless frame drums known as PANDERETAS in descending order of size from large to small – SEGUIDOR (originally called FUNDADOR), PUNTO DE CLAVO, and REQUINTO (the smell high picked soloist). The drums are accompanied by a thin scraped gourd that is scraped known as GUICHARO. Because the panderetas and guicharo are portable, one can march/walk and sing while playing them. Thus it is considered our musical newspaper. My adaption of the the scraped gourd part on the high hat of the drum set with the reinforcement of the rest of the kit as well as the congas and hand bell retain the authenticity of this hard driving rhythm in a contemporary context.
The second rhythm heard is from our most African rooted of genres, BOMBA. Rooted in Bantú Congolese culture, in this case the specific rhythm is YUBA. Played in a traditional context on large wooden barrel drums with the accompaniment of a large MARACA and two sticks called CUA' that strike any wood surface, our adaptation in authentic fashion to the drum set, bells, and congas while Mathew Gonzalez switches to the lead barrel drum known as PRIMO or SUBIDOR is again a perfect mixture of tradition with innovation.
The third rhythm featured in the arrangement is again from the Bomba complex and is known as SICÁ. The most common of the bomba rhythms, it was first adapted by legendary Puerto Rican percussionist and bandleader, RAFAEL CORTIJO, to band performance using Afro-Cuban percussion – timbales, congas, concerto (hand held bell) – in the mid to late 1950's. Our adaptation of it to the aforementioned drum set, congas, bells, etc. again retains its authenticity in a modern context. The percussion breakdown section uses the opening rhythm of Plena and features Matthew Gonzalez soloing on the smallest of the panderetas, the REQUINTO.
Plena was adapted to band performance by Puerto Rican vocalist MANUEL "EL CANARIO" JIMENEZ in the 1920s in NYC. The original instrumentation of his group used a solo clarinet. David Dejesus evokes that by his performance as a soloist on the soprano sax. The entire result is in my opinion one of the the most exciting interpretations, if not the most exciting, of Maestro Tizol's composition that has ever been recorded.
CAPULLITO DE ALELI – Composed by Puerto Rico's greatest and Latin America's most beloved composer, RAFAEL HERNÁNDEZ ( (October 24, 1892 – December 11, 1965) in 1932, Maestro Hernández composed hundreds of pieces not only in popular music forms but also string quartets, zarzuelas (lyric Spanish opera), symphonic works, movie music, chamber ensemble pieces and more. Hailing from the city of Aguadilla he received his early musical training in San Juan eventually performing with the famed San Juan Band Municipal under Manuel Tizol's leadership. He was proficient on a number of musical instruments – guitar, bombardino (small concert tuba), trombone, violin, and piano.
He holds a unique position in early jazz history. In World War I he, along with 17 other Afro-Puerto Ricans, were recruited by famed African American musician, JAMES REESE EUROPE, to be members of the United States Army 369th Regimental Band. The 369th became the most decorated unit in WW I and were given the sobriquet "Fighters From Hell" by the opposing German forces for their ferocious battle skills. Thus the regiment became known as the "Harlem Hellfighters." Under Lt. Europe's baton the regiments band were the first to expose European audiences to African American culture and music through early porto-jazz through their performance of ragtime music. Of the 44 musicians that traveled to the European theater, 18 of them were Afro-Puerto Ricans with Sgt. Rafael playing trombone in the band alongside his brother, Sgt. Jesus "Pocholo" Hernández who played clarinet. Thus almost half the band was Puerto Rican. Post WW I Don Rafael would work with Harlem stride pianist LUCKY ROBERTS. Yet another example of the unrecognized contributions of Latin musicians to jazz's history. Posts WW I he would travel to to Cuba to direct a theater orchestra, then to Mexico to study composition, conducting, and orchestration, conduct concerts and even appear in Mexican cinema. He would go on to compose iconic songs like "Precisosa," Cachita," "Lamento Borincno," and hundreds more.
Originally interpreted as a Cuban boleros by Don Rafael, Danny Rivera's arrangement adapts the song to the elegant form from Puerto Rico known as DANZA, a cousin to the Cuban DANZÓN as both forms are rooted in the stately French CONTRADANSE but with clave driven rhythm. The aforementioned GUICHARO provides the rhythmic propulsion along with the snare drum which was adapted later for band performance. Jennifer Jade Ledesna's soaring vocals interprets the song with a majestic tone. The piece then morphs into a hard driving Cuban cha-cha-cha, son montuno featuring Darwin Noquera on piano and Andrew Gould exploding on the alto saxophone. A climactic multi-layered layered sax, trombone, trumpet mambo section bring the solos to a climax. A return to the elegant melody leads to a final shouting in 1956 when swing section in big band Basie style honoring Maestro Hernández's clandestine jazz past.
PUERTO RICO – The glorious heyday of NYC's big band mambo jazz era of the 40's and 50's began to disintegrate after Castro took over Cuba on January1, 1959. The subsequent trade and travel embargo imposed by U.S. cut off the source and inspiration of the music. Along with the rise of rock and roll many American based record companies followed suit by dropping many of their Latin artists. But going back to the 1930s, NYC's Puerto Rican community had not only adopted and adapted Afro-Cuban based dance music, we made it our own. By the 1970s it was expressed with an aggressive sound that reflected the volatile tenure of the times. This NYC based interpretation of Cuban based dance music with a Nuyorican attitude would be deftly marketed by founding president of NYC's FANIA record company Jerry Masucci as SALSA.
In the forefront of the movement was Manhattan born, South Bronx raised native Nuyorican son – National Endowment of The Arts Jazz Master pianist, composer, arranger, bandleader, EDDIE PALMIERI. Influenced by the lineage of legendary Cuban pianists like Peruchin, Bebo Valdés, Lili Martinez, and Puerto Rican pianists Noro Morales, as well as his older virtuosic brother, Charlie, he would become the most forward thinking pianist, bandleader of the NYC salsa scene of the 70s. The final lynchpin in his development would be jazz pianist McCoy Tyner, whose influence can be immediately heard when Palmieri improvises. With one foot in the past and the other in the future Maestro Palmieri influenced all subsequent pianists in the world of Salsa and Afro-Cuban jazz. His forward thinking approach to his piano playing also extends to his compositional output. Tunes like "Revolt/La Libertad Logico," comment on oppression, and pieces like "Lucumi, Macumba, Voodoo," exude pride in the African roots of our culture and music.
Among his most famous pieces is, PUERTO RICO, which first appeared on the 1973 album, SENTIDO. It became for we Nuyorican's a second national anthem. During my youth growing up in the South Bronx it would blast out from car radios and bodegas all over the city. It became part of the soundtrack of our lives alongside the funk James Brown, the soul of Marvin Gaye, and the rock of Santana.
On the original recording it opened with an ad libitum solo on the Puerto Rican CUATRO – the 10 string mandolin like sounding national instrument of the island). I had Takao Heisho, who arranged the piece, transfer that intro to our electric violinist Ben Sutin while the sound of our native tree frog, the COQUI, reproduced by the entire band, evokes the dream like aftermath of a cleansing rain shower on the island. Maestro Palmieri's lyrics, interpreted by Orestes and Jennifer, describe the islands majestic beauty. Darwin on piano evokes what has become known as,"THE PALMIERI EFFECT," while his own unique voice. The background vocals during his solo praise and call the avatar of aché, ELEGUA, Our incredible trombone section pays homage to Eddie's second in command, fellow Bronxite, and the Father of "The NYC Power Trombone Salsa Sound," BARRY ROGERS. Who has the final say? As Eddie would have it, of course, the drums.
PARTIDO ALTO – Brazilian music had two periods of impact on the American zeitgeist. Beginning in 1933 then president Franklin Delano Roosevelt began THE GOOD NEIGHBOR POLICY with Latin America in order to further economic relations as well as staying off the threat of the spread of Nazism in Germany to our shores throughout Latin America. Hollywood responded with films like GOING TDOWN TO RIO where Fred Astaire and Ginger Rogers made their first appearance dancing THE CARIOCA as well as Walt Disney's creation of a cartoon talking parrot from brazil named CARIOCA JOE. The signing of of the multi-talented Portuguese born Brasilian samba vocalist, CARMEN MIRANDA to 20th Century Fox and her subsequent appearances in a number of Hollywood films made samba in the GAFIERA big band ballroom style popular with American audiences.
Post WW II would be engulfed by mambo and cha-cha madness and by 1956 Elvis and rock and roll began the slow decline of Latin music's popularity with mainstream America. But Brasilian music would give it new life in the late 50s with guitarist, vocalist JOAO GILBERT who would create BOSSA NOVA. Utilizing the rhythmic vocabulary of samba, but at a slower tempo, acoustic guitar driven, and influenced by jazz harmony combined with romantic sensuous lyrical content, it was inviting, intimate, and hip. By 1962 it hit worldwide like a hurricane.
In 1966 I was 9 years old and my Father José brought home a 45 rpm recording of a type of music I had never heard before. Jazz influenced Brasilian pianist SERGIO MENDES had formed a group he called BRASIL 66. It would feature a front line of two female vocalists who would sing in both English and Portuguese. The group achieved world wide success with their debut album on the newly formed A & M label formed by Herb Alpert and Jerry Moss. Their swinging interpretation of Jorge Ben's MAS QUE NADA became an international hit being played alongside the music of the Beatles and Rolling Stones on AM pop radio in the States. An appearance by them on nationwide TV special that I saw hosted by vocalist EARTHA KITT further main them part of the mainstream.
Mendes's blues influenced piano playing (he was influenced by jazz pianist HORACE SILVER) along with the intense samba groove played by drummer JOAO PALMA mesmerized me. I played the recording over and over again intensely listening while trying to decipher what all the instruments were playing. My mother Juanita became so concerned about my constant listening to the recording she feared that I might be autistic and spoke to my Father about it. While I was again listening to the record for the umpteenth time I noticed he was watching me. I stopped the record and he just smiled. He asked me in Spanish, "Why do you like the record so much?' I began to tell him that I liked the rhythm, that it was different from the Cuban and Puerto Rican music that we heard in the house. The piano playing was so cool and I liked the singing. I also asked him why the vocals were in a language like Spanish but different and why.
What happened next changed my life.
He asked me to get a globe we had and to bring it to him. He began to tell me, "You said the reason you like the music so much is because of the rhythm. Well that rhythm comes from this place." He pointed to Africa on the globe. He then pointed to Spain and explained to me that our language came from there. Then he pointed to Portugal and explained that the language the vocalists were singing in came from there. I asked him, 'Yeah but we're Puerto Rican. How come we speak Spanish and how did the rhythm and Portuguese come to the people in Brasil?" He then began to explain to me in a simple, clear, concise, and most importantly, truthful way, about the Trans-Atlantic slave trade, colonization, the original inhabitants of Puerto Rico, Brasil, Cuba and more. He then ended it by telling me that the fusion of all those cultures had led to the creation of us and the music we all love, and that we should be proud of all of those elements: African, European and Amerindian, because all those things are inside and live in us. He had opened the door for me to the Multiverse.
PARTIDO ALTO – Samba and bossa nova are not the only rhythms that come out of Brasil. A powerful combination of funk and the Brazilian rhythm that the piece is named after, PARTIDO ALTO was composed in 1979 by José Roberto Bertrami, Alex Malheiros for their group AZYMUTH, Besides musicians like ANTONIO CARLOS JOBIM and SERGIO MENDES, probably the most influential musician from Brasil has been AIRTO MORIERA. A virtuoso of the drum set and percussion, he exposed Americans, including yours truly, to the rhythms of Northeastern Brasil like FREVO, MARACATU, AND BAION. His recording of this piece from the 1988 album THE COLOURS OF LIFE with his wife, the equally legendary vocalist, FLORA PURIM, inspired me to ask Takao to adapt it for MULTIVERSE. The band tears through the piece featuring the incredible Jennifer Jade Ledesna on vocals and tenor sax titan Jeff Lederer.
LET THE GOOD TIMES ROLL – Composed by New Orleanian Sam Theard way back in 1942, alto saxophonist Louis Jordan with his Tympani Five made it famous with his recording of it in 1946. I first heard the tune as a child seeing Ray Charles perform it with his big band in the 1966 movie THE BIG T.N.T SHOW. There was no one else I could I think of to do the tune justice than the Queen of the blues and jazz from the great city of Newark, NJ, Antoinette Montague. Armando Vergara use the plunger mute is also featured while Peter Brainin on tenor saxophone gets a small taste while the Multiverse big band roars and swings hard taking no prisoners.
WHO TAUGHT YOU THAT – The Multiverse Big Band displays its versatility in the most difficult of tempos, a slow walking swing feel a la Count Basie. Composed by Randy Klein with new lyrics by Antoinette, the message of the composition is clear – hatred is not answer. Jeremy Fletcher's beautifully constructed arrangement provides the perfect framework for Antoinette's soulful vocals. Trumpeter Andrew Neesley reinforces her message utilizing a harmon mute with the stem in throughout making the conversation even more intimate providing a jump off point for Danny Rivera's masterful bari sax solo. The final three way convo between Antoinette, Andrew on trumpet and Peter Brainin on tenor symbolizes the ongoing discussion we all must have regarding hate.
I LOVE YOU PORGY – While working with Antoinette in her small group, I was moved by her interpretation of this excerpt from the George and Ira Gershwin 1935 opera. I assigned Jeremy the task of orchestrating it for the Multiverse to showcase her unique rendering of the work in a big band setting. Besides being based on her approach to the work, its chord structure is based on those originally provided by her legendary accompanist, pianist Danny Mixon. But where the original small group interpretation was in aa jazz ballad style, here the various movements alternate between the rhythmic structures of Cuban bolero and son montuno with the finale going into cha-cha-cha and double time NY style mozambique. In the opera it is a duet sung by Bess declaring her love for Porgy. He responds that he will protect her from, Crown, the abusive lover that she is dependent on for her survival. With Antoinette featured as the lone solo voice, the suffering that Bess has been experiencing is heightened as she pleads to Porgy to save her while simultaneously declaring her love for him. The result is a virtuosic performance by one of our great contemporary jazz artists.
GENIE IN A BOTTLE – "Hey Bronx, you know Christine Aguilera's first hit …" So the phone conversation started with yours truly and the acknowledged Queen of Brooklyn and Manhattan Transfers secret weapon, Janis Siegel. I must say that when she started talking to me about a big band jazz interpretation of a tune that was a pop hit over 24 years ago, I was intrigued but also skeptical. I agreed to audition Andrew Neu's arrangement telling Janis I would be very honest and if I didn't like I would clearly say so. But I also said if I felt anything needed to be changed I would say so as well. To make a long story short, the only change I asked Andrew to do was to make the ending more climactic, just as if Janis was singing the piece on the old Tonight Show with Johnny Carson with that incredible big band that trumpeter Doc Severinsen led roaring behind her. Trumpeter Jonathan Challoner swinging solo provides the intro to Janis once again proving that she is in the pantheon of jazz's greatest vocalists by not only interpreting the song with swing and class, scatting on it with sass. All that while the Multiverse kicks some ass. I think Christine and composers David Frank, Steve Kipner, and Amela Sheyne will be pleased.
AMAZONAS – I first heard this tune on vibist CAL TJADER'S 1968 album SOLAR HEAT. Its lyrical melody is the embodiment of the Brasilian feeling of longing that is simply known as SAUDADE. Its composer João Donato has a fascinating history. He's worked with many of Brasil's major stars like Astrud Gilberto, Caetano Veloso, Sergio Mendes to name just a few. But he was also recruited by my old boss, conguero MONGO SANTAMARIA, to come to NYC to play piano in his band in the early 60s. João was also a talented trombonist who worked in NYC's hardcore Latin music scene performing and recording with the bands of maestros TITO PUENTE, EDDIE PALMIERI, and more. Janis beautifully interprets Lysias Enio's lyrics and is featured scatting alongside Gabrielle Garo on flute and alto saxophonist David Dejesus.
SPOOKY – Another composition from my youth that Janis reminded me of with yet another phone call. The arrangement is based on an early demo that she recorded and was arranged for a small combo by bassist Christian McBride. In the Multiverse it takes on a new character displaying the bond that NYC's African American and Puerto Rican community have always had. The tune itself has been a hit three times over. First as an R & B instrumental with alto saxophonist MIKE SHARPE back in 1967 when I first heard it. Then the pop group, CLASSIC IV added lyrics and made it a hit yet again in 1968 where it reached number 3 on the Billboard Hot 100. It finally became a hit again in 1977 when the ATLANTA RHYTHM SECTION rockfying the tune with a keyboard and dual electric guitar solos. Our version amplifies the inherent Cuban cha-cha-cha, son montuno rhythmic DNA in the tune with authenticity and funk. It harkens back to 1966 when those rhythmic styles were fused with English vocals and R & B by NYC's Puerto Rican community creating what became known as LATIN BOOGALOO. Although Janis has always been a critically acclaimed jazz singer, she displays her Brooklyn roots in R & B with her soulful vocals. providing the icing on the cake are Peter Brainin's tenor sax feature and her vocal improv that takes the arrangement over the top.
TO BE WITH YOU – By the 1950's the interaction between NYC's African American and Puerto Rican community had already born much fruit. East Harlem born Tito Puente had taken the Cuban timbales and made them a featured solo instrument taking his cue from jazz drummer Gene Krupa. His forward thinking jazz oriented arrangements built on the early work of MACHITO & THE AFRO-CUBANS advancing the music with his forward thinking jazz oriented arrangements and compositions. In 1956 the five member vocal group, THE TEENAGERS featuring FRANKIE LYMON, took rock and roll to new heights. Two of their founding members were Nuyoricans. The song, TO BE WITH YOU, composed by Nuyorican vocalist Willie Torres and pianist Nick Jimenez as members of yet another Nuyorican, congeuro JOE CUBA'S SEXTET, was first released in 1961. It was then included on the 1962 album STEPPIN' OUT. It became the stuff of legend. Bringing together the disparate strains of Cuban bolero, doo-wop and R&B vocals, with a nod to jazz harmony, it became a hit on Black stations and Top 40 radio. I was only 5 years old but remember fondly the song as you couldn't escape it as it was played at house parties and resounded on juke boxes everywhere.
Janis commented on the timeless quality of the song. "That La-La-La opening instantly grabbed me. My parents danced mambo and cha-cha-cha, but I had never heard a real bolero before. The romance of the tune resonated immediately with me. It was an awakening. I recorded it for my first solo album, EXPERIMENT IN WHITE, and producer] JOEL DORN surrounded me with the real-deal musicians from that scene that lived and breathed that culture." Now Janis breaths new life into the song as she sings it for you surrounded by the Multiverse Big Band.
DO IT AGAIN – The influence of Latin rhythms (most notably Cuban and Brasilian), on rock and R & B has been ubiquitous. Yet sadly it has gone unrecognized by critics, musicians, and the general public. From the bass lines, guitar and keyboard comping patterns, to the drum set rhythms that drive the music, the rhythmic DNA of it comes from Latin music. STEELY DAN'S hit recording of DO IT AGAIN, from their 1972 debut album, CAN'T BUY A THRILL, affirms that in full force with the extended cha-cha-cha groove that the song starts with featuring Andrew Neesley's deft solo work with the Harmon mute. I fondly remember people in the park dancing to it when it would come on the radio just as if my parents would dance to the sounds of Machito, Tito Puente or Tito Rodriguez. A commentary on three losers who continually are given chances to repeat their negative behavior, Janis, Jennifer, and Jennifer come together on this piece each giving their unique take on Donald Fagin's lyrics. Noah Bless evokes Barry Rogers and Willie Colon on trombone with a contemporary jazz approach while Gabriel Garo on flute harkens back to the way the instrument was used in early cha-cha-cha performance in Cuba.
MI CONGO – Eddie Palmieri has always been in touch with the African rhythmic roots that drive the music of our culture. This composition appeared on his legendary 1978 album LUCUMI, MACUMBA, VOODOO. It became his magnum opus exemplifying his roots in traditional Cuban music forms combined with forward thinking jazz harmony and arranging, R & B and rock elements, along with the avant garde. In our culture it is said that there is a Congo inside all of us. He appears when we dance, sing, and play. As Oreste our congeuero sings with Jennifer, this inner Congo invites us to dance in the MULTIVERSE. We wait for OZAIN, the Yoruba super being (orisha) of healing herbs who has only one eye, one leg, and one arm, to bless the cities of Havana and Matanzas which are centers of African rooted music and culture in our so called New World. It is the prelude to the manifestation of ache', the positive energy force that permeates the Multiverse through Elegua who begins and ends all ceremonies. Responding the orchestra explodes in creative improvisation through Ben Sutin on electric violin, along with the saxophone section and yours truly having the final say on drums. It's just a small part of the never ending journey that is the Multiverse. Enjoy the ride!