"Vox Humana" nominated for Best Latin Jazz Album at the 2024 GRAMMYs!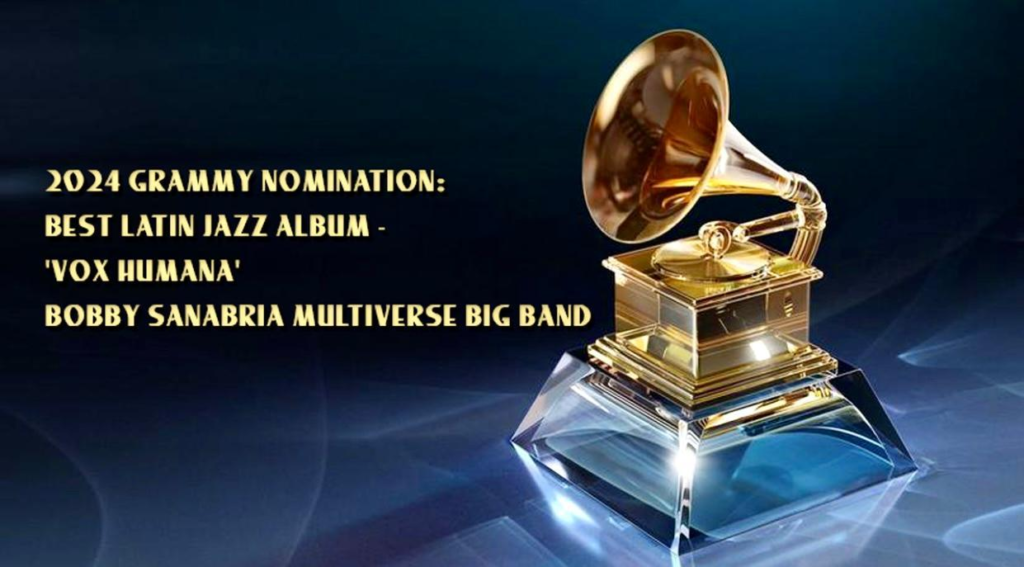 Bobby talks to Doug Doyle on The Art of the Story on WBGO about his big band's latest Grammy nomination.
NYC as MUSE: Bobby Sanabria on What it Means to be a New Yorker
Drummer Bobby Sanabria looks back on the Latin-jazz giant who never tired of playing for dancers and always aimed to give the audience something extraordinary.
Bobby Sanabria and his Multiverse Big Band return with their most ambitious work to date, VOX HUMANA
On the heels of their Grammy nominated and 2019 Jazz Journalists Association Album of the Year Award winning critically acclaimed masterwork, West Side Story Reimagined, and in celebration of their 25th anniversary – drummer, percussionist, composer, arranger, bandleader, educator, Bobby Sanabria and his Multiverse Big Band return with their most ambitious work to date, VOX HUMANA.
Bobby states, "Over the course of our many Grammy nominated albums we've occasionally featured tracks with vocals. But I've always envisioned doing an entire vocal album framed by the Multiverse Big Band. Now with three of today's greatest contemporary singing talents – multi-Grammy award winner Janis Siegel from the Manhattan Transfer, blues and jazz Queen Antoinette Montague, and the multi-lingual powerhouse, Jennifer Jade Ledesna, today that vision has finally become a reality.
Bobby interviews Conrad Herwig
Conrad Herwig's album "The Latin Side of Mingus" featured on WBGO's New Day, New Play December 5-9
Bobby Sanabria interviews Chucho Valdes
Pianist, composer and bandleader Chucho Valdés celebrates his 81st birthday on October 9 (a birthday he shares with his father Bebo Valdés), but he is not resting on his laurels. For the last month or so Valdés has been presenting his large scale work—La Creación(The Creation)—a three-movement suite for small ensemble, voices and big band that tells the history of creation according to the Santeria tradition.
WBGO Yamaha Series: Dayramir Gonzalez performance hosted by Bobby Sanabria
On Thursday, November 3, 2022, WBGO, hosted by Bobby Sanabria presents a streamed concert by the Cuban jazz pianist Dayramir Gonzalez, who performed a set at the Yamaha Studios in New York City, as part of the Yamaha Concert Series, now in its seventh season. Gonzalez was joined by Dean Torrey (bass), Juan Chiavassa (drums) and Keisel Jimenez (percussion), a band that won the DC JazzPrix Competition in 2021.
Hipness Report
Missed the last BMHC PERCUSSION DISCUSSION on 12/8/21 hosted by BOBBY SANABRIA where he breaks down Jeremy Fletcher's arrangement of GEE, OFFICER KRUPKE from WEST SIDE STORY REIMAGINED which features 10 Afro-Caribbean rhythms? Have no fear, it is here!
A Toast to Salsa Trailblazer Larry Harlow, Dead at 82
Bobby Sanabria hosts the Latin Jazz Cruise on WBGO every Friday from 9-11 p.m. ET, which will be devoted in its entirety to Larry Harlow on Aug. 27. He toured and recorded with Larry for over 25 years, and drew on their personal conversations for this tribute.